Awakening from the dream of life (and death) is a process that will take time. It can take lifetimes (I hated this idea) because we are so rooted into the dream. It will most likely not be an easy process because our global system was made in a way so that nobody is able to awaken from our dreams of life and death.
For thousands of years The illuminati/ Cabal have been plotting with advanced beings/ extraterrestials by building a reincarnation harvesting grid, which lures our souls to come back to this world over and over again after we die, only to repeat the same nine to five slavery again and again with total amnesia regarding who we really are, and to be fed with false history about our self by a world outside of us. They have sodomised and exploited our souls for a long time. You cant beat the prison system (our world) trough physical means because it is foolproof but you can escape it trough realizing that you are the dreamer and have the power to change the dream into a dream that hastens your awakening away from the dream and stop reincarnation. This is what the illuminati fears the most which is why they created the concept of Darwinism that completely denies the power of our minds and rendering us to believe in a physical brain. The brain is projected by the mind! Not other way around! Evolution never occurred because it was all just a bad dream of separation which is meant to keep us in a literal sleep in time space. The world and the events/story you perceive are inevitable effects of separating from god which means, again, that its bound to be chaotic. Our bodies, that stand for individuality, are symbols of separation. The death of the body is a symbol of separation. The death of a star is a symbol of separation. Even things like peeing is a symbol separation because the water in your body is separating it self from your body! So everything here stands for separation.
Many people like your family and friends are most likely hypnotized by the world which means if you start to awaken you will most probably create tension around them because you are challenging their sense of reality by your very being. There will be times when people who are unaware of the dream nature of the world will uncounsiously attack and try to lure you back into concensus thinking, back to what is familiar and safe for them to understand, so you will have to say no many times because you now know that the only way to save this world is to truly awaken from the dream, by slowly realizing that we are not bodies and thus be a demonstrator of true inner peace to others because you know our lives as bodies are made up so there is nothing to fear. This is the ideal state for all of us and we can get there!
Today I want to list some comforting realizations.
1. Although the world was build to attack those who awaken from the dream you will be able to take those attacks less seriously. You will be able to take EVERYTHING less seriously because you are slowly understanding it is all just an imagination/dream. Once you are truly aware of being a dreamer, the freaky stuff starts to calm down as an after effect of a sleeping mind that is now aware of life being a dream and thus the dream becomes peaceful.
Awakening does not guarantee a successful life in terms of the world, the part of you that still wants to experience individuality/ separation as a body will not like this idea of Awakening which is why our desire for separation will manifest all these challenges in our lives to keep us distracted from our mind and keep us asleep until the desire to be separated is gone. When the desire to be separated is gone then it is time for fun. The dream can get more intense, beautiful and weird the more you awake. If you look at Jesus life, who was awakened completely, his life ultimately led to his crucifixion, so Awakening does not guarantee you millions of dollars or any of that Law Of Attraction stuff. The true miracle of your life is to experience that you are the dreamer of the physical universe. That is Enlightenment. All else will fall into place naturally. Once you are aware you are the dreamer, your life will lean towards a direction of release or letting go do that you can become more and more free from the things and situations that were distracting you.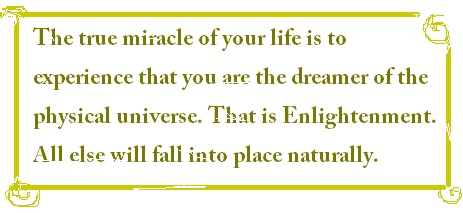 It is a gradual process otherwise our biological small self could not take it. The process of awakening is also a very physical process where our brain gets rewired to receive larger dose of universal energy trough our spines which is why it is very common to rest a lot at this time.
2. Realizing you are the dreamer means that every animal you see are also you. You will have more abilities to communicate with them and animals will appear more human to you. You may lose the desire to eat meat. Eating meat is just a Rothchild bullshit idea anyway.
3. You will live a life of contentment and gratitude no matter how tough thing can get.
4. Although your career, your hobbies, people and even family members may fall away, and you will be in a limbo all alone, you will eventually attract the right people into your life who are on the same journey with you because like attracts like. There is no more ego based agenda (fear of being alone, seeking validation, likes, gossip etc) in the relationships but true, honest and unconditional communication. In other words,  slowly realizing life is just a dream leads you into a more feiry tail experience of life. Everything is more synhcronistic and different opportunities start to come up. The dream basically gets weird, beautiful and sometimes very intense especially in night time sleep.
5. Even when the dream can get very intense to a point it overwhelms you, you just know there is a higher purpose behind everything that happens in your life. Your everyday life has meaning.
6. Your body becomes more lighter and easier to carry around. It doesn't feel like a heavy meat sack anymore.
7. You will eventually stop judging other people and your self because there is no sense in judging something which is only a dream. Judgement is basically a decision to make sin real in your mind and  you will eventually learn not to do that for the sake of your own well being and others.
Hope you liked the list. These are based on my own understanding and not all are meant to resonate with you. I do feel however that you will find some common elements with your own awakening and most importantly, realize that you are not alone in this intense, beautiful and weird journey.
Your own self realization is the greatest service you can offer the world." -Sri Ramana Maharshi