Although we think the elites as the people who hold financial, and masonic-political-power, the true Elites, and the power at be really is you, the Yahwwashi (fake name Christ) within you… Assuming you have activated your Israel Ancestors.
The damage done by the Western mentality, and false image of Yahawahshi is too strong, and too many people ignored the obvious signs of our angry living organism known as Earth, and many people are in a world of hurt. My friends, even family are in a world of hurt for not listening at all. What a sad situation… But the people here have become too wicked, so the end must come, in order to restore the world order back to its Nativity known as Israel. We are in deep need of this order. Women have also lost themselves, and many times are worse than men. The Wars will force Many women to loose their wicked men-lovers, and will be forced to be single, and disciplined righteously. The hope is lost for many indeed, except for the metaphorical 144 000, which may also be a literal number… That is how bad the worlds situations is.
Yahawhashi is for the you who is doing the inner alchemy, expressing your truth, not allowing others to distract you before world war 3 hits. You have prepared your self for the coming blessing of Yahwhashi (fake name Christ) and have gone beyond the experience of the dark night of the soul, an experience which truly prepares you for WW3 while many of your old friends, even loved ones will not make it. Awakening is though, it prepares you to man up, and leave the old world. A masonic based world that has failed. America is going to die soon guys, and very few get it, too comfortable in their comfort zones. The so called elites, the masonic idiots, are in deep fear now because their world of slavery and royal orgies is falling apart, more information about their global banking scam is becoming public and their ways to manipulate, and censor or character assasinate peoples images speaking truth on the internet and outside internet is being exposed. They really have lost the game, just look at Harvey Weinstein. Not exactly the most high ranked mason but still powerful enough to influence hollywood in a big way. But now look at him, According to Joe Rogan show Harvey has been screaming about suicide. This is a guy who owned hollywood and is now being betrayed, humiliated by his Khazar people. The ways have changed and there is no time for fuck ups.
The Dark Night of The Soul takes everything away away from you to a point all there is left is you, the awareness of the content of your mind and body. And although the dark night tends to push many in to intense fatique and to the brick of suicide due to realizing of how much damage we have gone trough and caused others over lifetimes, the benefits really are great because the experience wipes out a great deal of stored ancestral and personal trauma from the body which was the cause of many of our earlier decision in life that were based on fear. Since the past stored trauma is wiped out from our bodies cellular memories, in a subatomic level, so is the fearful expectations of the future evaporated from our biological and emotional self. Your mind becomes le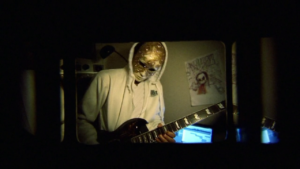 ss and less fragmented in to the past and future, you gain new mental abilities you forgot when your mind got fragmented ,You live in the Now, the present moment, your forehead is serene,  having the ability to make quick beneficial decisions while you smile more frequently, loved and hated by people but this way of being holds not attachment to neither, which is still a  rare experience of being in this planet but humanity is getting there and as I said in a more direct earlier article, the first teacher for many people in the path of Enlightenment, the final destination, will be pain. When you have gone trough immense pain, you are more willing to see your pain as a metaphor that perhaps you are holding too tightly into something and it would be beneficial to let it go,you know, "loose the tension of your grip" which means to allow change to occur which is something modern people just dont like and the western system particularly was built to keep people in full focus to get a mortgage and place all their focus and their lives to pay the mortgage, in a fearful state, and seemingly never having the time to get out from the loop. This leads us to numbing the discomfort of the loop with all sorts of things: tv, abuse of alcohol, abuse of drugs,abuse of sex, overworking, overeating, over thinking and so fort. If unbearable neurosis or psychological pain comes into your life in this situation due to immense stress or anxiety of trying to fulfill societies expectations, and you listen to your anxiety then your life will never be the same again. In a good way. Pain motivates people to question their lives, and many are choosing pain in order to learn what their purpose on this planet was meant to be.
The decision to stay in illusions is not out of stupidity it is simply the souls yearning to experience all the nostalgias of humanity as much as possible. The good and the bad. So if you do not like what I am writing then you can go and experience the things you want to experience in this life, even if it means your destruction. The ones that are awakening now are old souls, they have gained all the experiences needed and are mentally open to receive higher information and start a journey of remembering home which is an awareness of all that is. Their life was already scripted for them to awaken. There really is nothing wrong with this universe of duality and im sure most of you reading stuff like this know that there is no need to save anybody. Just like the divine order is able to place the sun to a distance that is not too far to keep us earthlings cold but also not too close to burn us, this same order within our human chaos is also directing each soul to its beneficial path. People yearn pain because it gives them a stronger illusion of separation but even pain has its limits. The divine intelligence really is in you because you are literally dwelling within its womb projecting a universe tha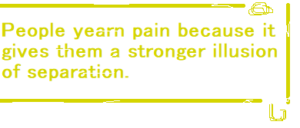 t appears separated from you and has caught your attention and traumatized you since the beginning of time space projection. This whole awakening thing clears the trauma away and leads you to the present moment where beneficial choices are now easier to be made without the past and future. Being present, not carnal minded is being an elite. You are in sync with your own seasons thus you work smarter not harder. The so called elites of this world have a reprobate mind, which is a linear mind, unable to see the full picture. This is why the so called elites are heading towards their death within few years now. We are so close to end.
Emotions Unnoticed that keeps us stuck.
All feelings of negativity triggered by others are also ancient traumas. Without the annoying people in your life these traumas that have rooted you in to this realm would have stayed out of your awareness and would have anchored you here perhaps forever as a body. Be glad of the dumb people in your life for bringing all the dense negative emotions in to the surface. All adversities in life are there to trigger dense energy, and although uncomfortable at times, we can use these experiences to allow the divine intelligence or order to evaporate all the toxic vibrations out from our energy field and body. Trusting this divine intelligence is very important which tends to be gradual. I ended up pushing things faster by putting my self trough extreme situations where trust was a matter of life and death but it worked too! I had to heal from the experience but now I know for sure that there really is divine order in the human world as well.
A great siqn that you are an elite is when you are discerning what you speak in to the Universe. – Klem Kaan