1. Although the world was build to attack those who awaken from the dream you will be able to take those attacks less seriously. You will be able to take EVERYTHING less seriously because you are slowly understanding it is all just an imagination/dream. Once you are truly aware of being a dreamer, the freaky stuff is less serious or personal. This does not mean that as you expose the lies of this world that you will not be attacked or even killed. You will still take it less seriously. The sleepy ones are rebelling against God by attacking you.

Awakening does not guarantee a successful life in terms of the world. If you look at Yahawhashi/Jesus life, who was awakened completely, his life ultimately led to his crucifixion, so Awakening does not guarantee you millions of dollars or any of that Law Of Attraction stuff. The true miracle of your life is to experience that you are the dreamer of the physical universe. That is Enlightenment/ salvation. All else will fall into place naturally as your mind gets more healed.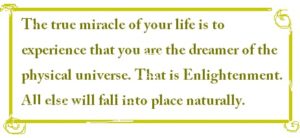 2. Realizing you are the dreamer means that every animal you see are also you. You will have more abilities to communicate with them and animals will appear more human to you. You may lose the desire to eat meat for a while, and study what meat is lawful and what is notl

3. You will live a life of contentment and gratitude no matter how tough thing can get.
4. Although your career, your hobbies, people and even family members may fall away, and you will be in a limbo all alone, you will eventually attract the right people into your life who are on the same journey with you. As you progress or enter the dark night of the soul, you will lose new friends, the spiritual ones, because they are not ready to go all in. After this you will start to attract relationships in that dwell in a universal level, and are not based on any attachment. You may come across reptilian hybrids, that are trying to do good, and may spend a little time with you for the sake of learning.

5. Even when the dream can get very intense to a point it overwhelms you, you just know there is a higher purpose behind everything that happens in your life. Your everyday life has meaning.
6. Your body becomes more lighter and easier to carry around. It doesn't feel like a heavy meat sack anymore.
7. You will eventually stop judging other people because you can see they are failing anyway for not knowing what they are doing, or why they were born to this world.
"Him that overcometh will I make a pillar in the temple of my God, and he shall go no more out: and I will write upon him the name of my God, and the name of the city of my God, which is NEW JERUSALEM, which cometh down out of heaven from my God: and I will write upon him my new name."
Revelation 3:12