I am not interested to save the world or become well known, something only very jealous people would like to think about my stuff. I originally made my website to share my videos and songs but that would have not being an interesting enough content to uphold a website which does cost money as well which is why I started to add more value to my page which is the stuff I have been writing so far. What I am writing Is just an after effect that is part of our collective evolution. Like a ripple effect, the evolution of humanity caught my attention and thus I decided to go along in case I will miss out something important which indeed it is. Majority of humanity have not noticed that we are living a time of change known as Aquarius so majority are missing out unfortunately and are ruining their lives. This problem is not just a linear issue its actually a multidimensional problem. Every dimension of time is packed with people majority still caught up in linear time which is in fact the past. The world was over long ago believe it or not and you are the only one in the room within you personal hologram of life and death that has been already over! Just like a movie. A movie may appear linear starting from beginning to the end but it has still been already filmed in the can before it even got projected to the screen to be experienced. And so is your life… You are already dead and looking at a world that is past but you are too fearful to let it go. I wont go too deep with this. Just saying that if you are reading this right now and find it resonating then indeed by all means continue reading. I do want to add that writing this stuff, although not new, is indeed my new passion and I love to spread the word forward. I am not a guru, spiritual teacher or any of that kind. I am an awakening esoteric ego. I have tarnished my image many times in the past years and even made a gritty exclusive documentary that was all about tarnishing my image as a goal getter business man and artist. You can watch it here. So if you think I am some kind of a cult leader, hah, think again. You will be wasting your time and ruining your life. "Let the dead bury the dead" is a quote from Jesus which means let the spiritually dead bury the dead. This page is about life. Yes, the road can be tough but life always wins. Humans will for life is too strong although the majority of humans have a high tolerance for misery and pain because our culture has been set to numb mental, physical and emotional pains so we are not aware that we have a soul that has been tortured that yearns to spread its wings and fly.
So am I pushing your buttons? Have my writings upset you? Are you bothered by the fact that earth, humanity is actually an illusion or a holographic dream or as some might call a simulation of a false life? Are you pissed that your career, loved ones, family and friends are all made up? Are you upset to hear that you are actually outside time and space in heaven/ infinity dreaming of a limited existence in a limited universe? That you are already dead just like the rest of humanity are already dead. Everybody is like in the movie The 6th sense… Humanity is literally like a ghost, they all think they are alive but the world was over long ago. Are you troubled by the idea that your are the one who has to take charge of your thinking because God has no clue about your dreams just like a parent does not know what a sleeping child is seeing in his or her dream. The only thing the parent knows based on the childs troubled sleeping face is that  the child is having a nightmare thus the parent tries to wake up the child with gentle ease by whispering loving thoughts to the child.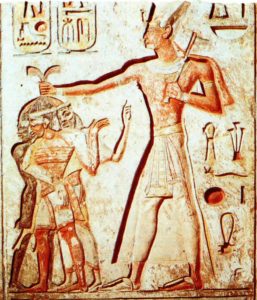 "Nothing to worry. You are safe at home. All you are seeing is just a nightmare and they have no effect"
Regarding the parent – child metaphor, please remember this is all a metaphor because we are not really bodies in heaven. God is not a person and nor are you. So back to the story. Like the parent whispering to the child to wake up and reminding the child that what he/she is seeing is just a dream God is basically whispering to the one mind dreaming of a universe with multiple bodies (extraterrestials included) that its dreaming. Since the one mind (which is ultimately you) is so identified with the symbols of the dream The mind interprets the whisper of god to wake up in the form of symbols such as the manifestation of moses, Jesus, krishna and none animated bodies like esoteric books such as the course in miracles, buddhism or any article that is trying to motivate the reader to wake up.
However when people are presented with the truth. That it is beneficial for you to wake up rather than staying stuck in a cycle of birth and death (physical reality which is a dream) majority like to hit the snooze button and continue their lives as if they never heard what any great master like Jesus or a authentic book or article was trying to say… And here is why… The 6 reasons you should forget about waking up from the illusion of birth and death and live your day to day life as if you never red this article.
1:If you answer the call to listen to the "Gods whisper" that is calling you to wake up (Gods whisper that took the form of Jesus, Buddha, esoteric books, esotric videos, esoteric music and articles) then you must be ready to allow your world to end and by that I mean that most of the western people are living a very unconscious lives and have made choices so that they can remain and deepen their state of unconsciousness or sleep. This usually includes poor choices regarding work, friends, spouse, family members, hobbies, diet and the way you think/ believe. Our thinking/ beliefs are not easy to purify which is why the old world that held your belief/ thinking system together tends to fall apart if you get serious about awakening from a thousand year lasting false existence. There are not many retreat centers in the world where people who have lost all and now have to start from zero can go to which is why Trust is such an important aspect of Awakening while finding refuge where you can rest and allow your biological self to adjust to this profound realization of not being a body. The world is not Awakening friendly because it is designed to keep us asleep and will continue to do that for quite a while. The reason trust is so important is because you are not separated from God, you are just dreaming of separation. The divine intelligence that fights against the chaos we created is also within the dream which is why your usual way of thinking must go away so that it can guide you. Without the divine intelligence infused with our miss creation of a false dream like universe there would be no order in this universe and one example out of many I can come up with is that our sun would not be in the exact place in the galaxy to shine its radiance from a perfect distance so that it wont burn our planet. This same intelligence that knows how things can be "safer" also knows how to guide you properly in a crazy planet.
2: If you are not ready to tarnish you image then you might as well stop it there. You can not care what other people think of you once you answer the call. When you loose your old life (which may include losing your house, spouse, job etc) you will be tempted to think how others perceive you. A lot of angry people tend to use the word "sheep" to define a person that is bound to a herd mentality. This page is not about being angry to people, quite the opposite, but it is true that humanity has a deep seated belief system (I call virus) and that is the belief in objective reality that needs to be taken seriously in order to survive. Once you start to become more subjective you will experience cognitive dissonance with the rest of the world who are still caught in an objective world and your very being will get misunderstood. You will not resonate with many people and it will take trials and errors and the ability to be vulnerable (average joes hates vulnerability) to find the ones that are suitable for your new subjective awareness. Objective reality has thought us to be goal getters and ambitious, serious individuals who must find this priceless pearl outside of us (to many people this priceless pearl is finding the ways to have sex). We have surpressed our nurturing feminine side which includes self nurturing and resting so that we can be effective in our natural talents and nurturing around others. This feminine energy is coming back now. The rising of female movements (such as the Me 2 movement) is just an expression of that even though they may not know it.
3: Awakening from the dream is really like consciously dying while still appearing in the body. Your usual way of human interaction will radically change and many foods will not fit your new awareness due to its harm to the body. Although the body is a deformity of thought it is still a divine creation and it has its own intelligence such as pain. When you feel any pain all that is happening is that your bodies intelligence is telling you to stop whatever it is you have been doing to it such as too much alcohol, unhealthy food, negativity or stress etc. To die consciously would also mean to accept to let go of any desire to be famous, rich, good looking etc. You must surrender your life to this divine intelligence that will guide your life towards a path that will bring you more and more within to the subjective reality. It is a very paradoxical journey.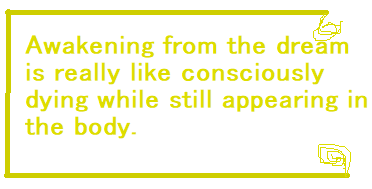 For example many things we thought to be our advancements or achievements have actually being damaging regarding our spiritual evolution while our trials and errors and the ability to move on have been our truest contribution to the healing of this one mind that is dreaming the entire universe, animals and all humanoids. We are all one. Its not unusual for long sentenced prisoners to be more happier than an average joe who is "free" because the prisoner has less distractions and no goals or desires around him. The prisoner thus ends up finding interest in the inner subjective realms and even has the time to digest all the physical changes due to very simple prison life. Nelson Mandela myth is a good example about a *made up* being that was locked up but was not distracted by much things thus he got in touch with his divinity and silently did his thing in "raising the consciousness of humanity".
4: Eventually you will have to learn to surrender to the entire process even at times when nothing makes sense. As we advance in our subjective journey some have had the excitement to become teachers, healers, guides but this does not guarantee fortune and fame at all. The real question is are you ready to do Gods will even if nobody would know anything about you and you would not be rewarded materialistically at all? The ones that do receive material gains like Osho who had close to hundred rolls royces are ultimately there to learn that none of that brings them the happiness they were looking for. Perhaps your soul does not need to go that lesson especially if you are born within rich systems such as Norway or Finland. 😀
5: There is nothing wrong with religion yet it has taken peoples power away from them and has made many religious followers dependent on a force outside of themselves to save them. Many actually believe that there will be a second coming of Christ not understanding that the second coming is actually the time we are living right now which is the age of Aquarius where humanity is reclaiming their Christ within themselves. We are all Christ because we are all the one Son of God that is dreaming of a separated universe. Christ is simply a higher state of consciousness where you are more aware/ conscious of being a lucid dreamer outside time and space just like Jesus was aware of being a lucid dreamer. Jesus became one with Christ consciousness. Many have done so before and after Jesus so there is nothing special about him. If you are not ready to take responsibility of your life and rather prefer to project all your issues on a god outside of you to solve your issues then this path I have been talking about may not be for you because in this path you are taking full responsibility of your thinking and the actions that follow from your thinking. I also want to add that Atheism demands independence from a higher force/ God but this is not so. We are all one and interconnected. Independence or separation is just an illusion which is the world we appear to live in. The people that claim to be atheist have usually being very miserable people usually dependent on substances or relationships to ease their own created sense of abandonment from God (I prefer calling Oneness) and are sabotaging their lives by being over obsessive to prove religious people including esoteric teachings as bullshit. What a sad life and a waste of time…
6: Since Awakening is like dying from an old life and being rebirth to a new one while still appearing to be here. You may have to go trough phases of losing the zeal and passion in the stuff that you used to love. You must face the emotional side of death which is not only about losing your body but the entire human experience. You will loose more desires as you move forward… Even the desire to hold a role of a son, mother or whatever role you used to so identify with must fade away. This all does indeed sound harsh to anybody who still sees value in the 3 dimensional world but as you progress trough these experiences you will feel compassionate towards humanity and will function without any conditions set on others. Sure, you will still use common sense. You will not spend and waste your time listening to a drunk person, you know, or waste time with toxic family members who are still trying to control you, you know, or hang around with friends who have no respect for you. You will notice that many times it will be more beneficial for everybody for you to just leave the relationship so that others will one day get motivated to take charge of their own lives and make a change within themselves. You get what I am saying!?