Your divine mission or purpose actually starts the instant you have answered your own personal call to consciously follow your divinity or Awakening. Its the good old mundane stuff. Your mission was always within you, you just did not see or hear it but now you can otherwise you would not be reading this article and resonating with the title and text.
When the divine intelligence (God, Universal or Cosmic intelligence) gets re-activated so does your path in life. Your path to consciously wake up and detach from the physical dream (physical universe) is already the mission it self because as said many times in my earlier articles, your willingness to follow your divinity will not only change the cause (your mind) it will also start to effect your external world as well and at first, things can get messy, especially the relationships you were involved in while still unconscious, which is why its crucial to understand that your spiritual mission has already started and is not something that happens in the future in the form of, less say, becoming the next famous guru, the next mother Teresa, the next Gandhi, the next Martin Luther King, the next best seller in spiritual books, you know. Your spiritual mission is to go trough the mess of your old life with your intention to release yourself and others from it and the ancient cycle of passive negativity and physical negativity that went along with it for a very long time but got numbed with external stimulus (overeating, overworking, alcohol, abuse of sex, abuse of substances, unhappy relationships in denial etc). Your mission is basically to do your best not to react from your ego to other peoples egos, some who will in their unconsciousness try to drag you down. You must be vigilant for your divinity and not put your power outside of you which reacting to the external world from your ego would do, meaning you are adding power to the matrix and the ancient cycle of hate and misery would go on thus you are bound to that relationships or a very similar one in an etheric level and you would not be moving forward with your day to day lessons. As long as you have the pure intent to change your life (which would include to change your old way of perceiving the world) you are already in your divine mission. At first it will be tough and there is a high chance you will loose yourself and fall down once in a while by reacting to other peoples egos but your intent to grasp life is what really counts and will help you to overcome your own misused ego. I just want to add that ego is just a tool for day to day living. It is not evil although we have abused and miss used it for the purpose of darkness/ separation. You use ego to judge whether to cross the streets or not, you use it whether to buy a processed food or not. These are judgements that do not have any intent to harm or enslave anybody to your world.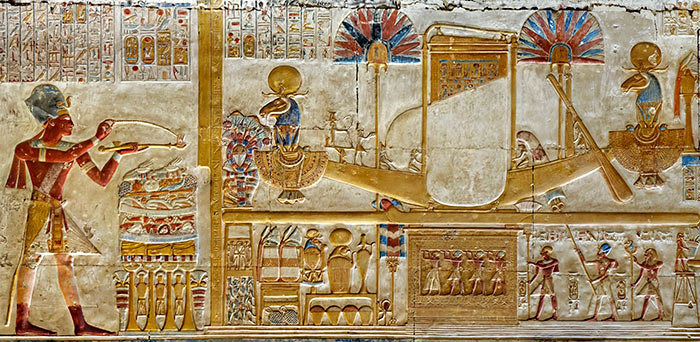 Although your spiritual mission will take a more obvious expression at some point such as starting a creative project, becoming a intuitive healer, becoming a humanitarian, devoted raising a child to become a conscious co- creator in life etc, the spiritual mission is ultimately an extraordinary normal day thing that boils down to forgiveness. Everything will always boil down to forgiving yourself, forgiving others thus forgiving the entire world and the thought system that is the root cause of our insane world. We are here to forgive everything that we find negative, we are also here to use discernment with what we think as positive and release the world. We are talking about a totally different way of being than what we were thought as we were raised.
There is a big obsession for some of us to find this  grandiose mission thing to do. I sure was one of them. I remember after dropping my Course in miracles book down in my early journey I actually experienced some of my first syncro events that led me to establish a corporate start up business not so far from Sahara deserts. Since it included the "help" of the government it started to feel like an actual mission but ultimately it was actually the simple day to day mundane stuff to forgive the weirdness of homo sapiens and the man made world that mattered the most. The corporate thing was actually nothing. It was all about forgiving the relationships and to actually release these relationships by forgiving them. We have forgot that our presence as awaken being with the ability to discern is enough already regarding the healing of this planet. Your awakening and the inner joy that comes out from this inner process is what matters and is the healing agent for the entire collective sleeping mind that has split itself to many different bodies that think are separate autonomous self (Hindus the world of multiplicity).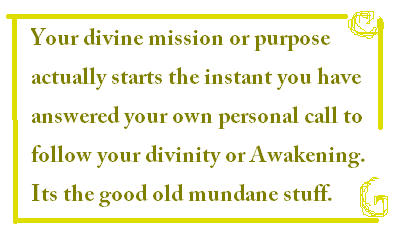 When you withdraw your investment to perpetuate ego consciousness which is all about separation and division by accepting your awakening and the death of your old world that kept you stuck in ego consciousness, you are already working as an example for others to make the same choice. Your mission has nothing to do with preaching about anything to others. Your peace and experience of your divinity is enough and on some level the people around you will sense this which is why as you advance, which can take time, you will notice people becoming attracted to you although they are really attracted to their own potential that they can sense in you. As said earlier in a another post, some will not like you due to jealousy or some other weird egoistic reason and this is where your mission steps in over and over again: to forgive.
Forgiveness does NOT include being passive and letting others abuse you verbally or physically. Its about coming in touch with our ancient decision to participate in this dream and agreeing to experience separation. Once you notice that we are playing a video game dream of separation you will learn not to take people personally which is basically another way to say you are forgiving people in your life for something they did not really do because it is all just a scripted video game dream meant to create an illusion of separation and people are simply actors reading their lines from the collective unconsciousness without knowing they are actors reading their lines that is scripted meant to perpetuate separation. But you know now everything is just an act, which means your spiritual mission is not about making a scripted life real by holding grievances, its all about making beneficial choices that are about reinforcing this divine fairy tale experience of everything being actually just a video game dream play. That the world is literally a stage and people are actors. If you judge people/ actors on a stage you are making the play real in your mind and cementing or rooting your self into the dream and your belief as a physical brain body self gets reinforced and you will be sucked back to the dream and basically feeling awful.
So, if you are reading this then your mission already begun. It re-began the second you decided to wake up. Your mission revolves to forgive the world day in and day out. It has nothing to do with the size of the mission. Whether you are a carpenter or a holistic business owner, a humanitarian, your life will still have challenges, especially with people so its important not to take anything personally/ seriously which means you are already able to forgive in the most deepest level. You are already doing your mission by not adding more negativity to the collective unconsciousness. As said by Yeshua in the Gospel of thomas  found in Naghamadi Egypt: Be passerby.
The collective unconsciousness is the sleeping Son of Sod that is having a strange dream of separation/ multiplicity, it is us. If you judge the actors on the stage called the world, you are really judging your self of being the one that is dreaming them up and basically punishing your self in a level most are not aware of which is why there is so much sickness. You are the sleeping son of god, a part of the son that is waking up and hopefully using its remaining time wisely by not judging the reflections of his sleeping mind which is the world and entities he sees.
So relax, if you are opening your third eye, especially having the intent to not take the good and bad seriously (forgiveness) then you already are doing your divine mission. If you do not practice forgiveness then who will? Majority of religious believers and all the media materials that were inspired by religious mythologies have made sin and guilt real which means the forgiveness and prayers they practice on others are not authentic. It is all about establishing themselves holier than others who are able to "forgive" others sins when in reality there is no sin, its all an illusion… Argh… I think I went too "deep" again (this is actually common sense) but I kind of wanted to go there. I will leave now. Bye.
"If you want to awaken all of humanity, then awaken all of yourself. If you want to eliminate the suffering in the world, then eliminate all that is dark and negative in yourself. Truly, the greatest gift you have to give is that of your own self-transformation." Lao Tzu