THE END OF YOUR WORLD.
Your world as you knew it before is changing very fast. Some people have vanished from your life and some you can not relate to anymore no matter how hard you and the people in your life try. Some will despise you without any valid reason. When this is happening it means that you are ready to face the unknown and thus life/universe/god is assisting to speed up your Enlightenment or freedom from space time experience and become a lucid dreamer within the physical dream which planet earth, the entire physical cosmos really is. This only starts to happen after you are not happy with your old way of living. When you are unhappy with your old life, your minds starts to open to new ideas. Without the curiosity to experiment with the idea that perhaps the world we see is in fact subjective, there would be not enough energy, zeal, to pull you into subjective direction which means your life, relationships or comfort zone would have remained the same and you would have being ruining your life just like the rest. The more your old world breaks down the more you get detached from things and people in a mental level. The more you get detached, the more you feel content by being by your self which becomes its own paradox because people will be attracted to you since you do not need anything or anybody outside your self. You are thus releasing your self from giving your mental power to the outside matrix world thus its hold on you is weakening. The more it weakens the weirder your life starts to get in both the good and bad ways so be prepared!
YOU HAVE GONE TROUGH THE DARK NIGHT OF THE SOUL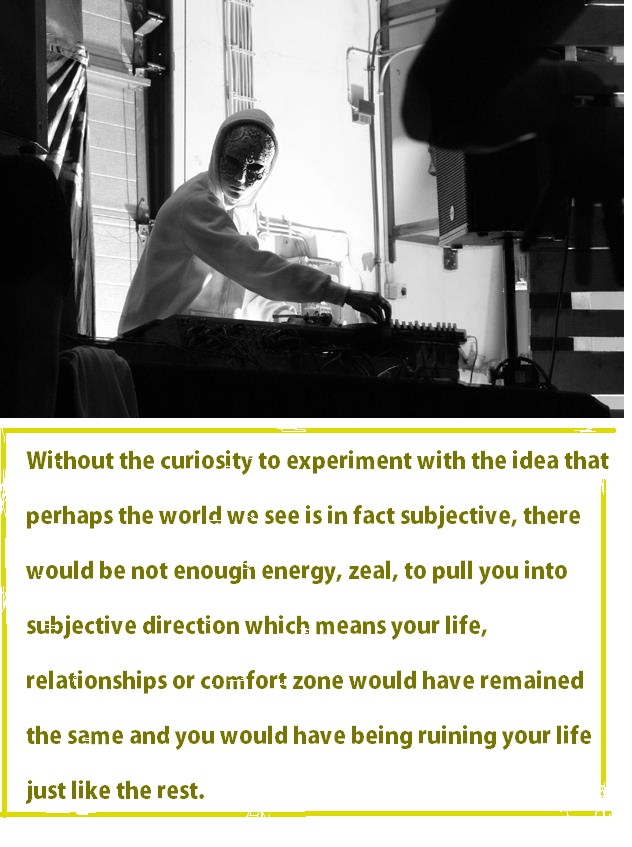 As explained in many different ways in my earlier article. The dark night (a.k.a existential crisis) is a time of grieving the life that you knew before but which was all a lie. Your system got shocked and you needed time to integrate the fact that we live in an illusion that is trying to lure us back to its grips which means the life that you thought you were living was not beneficial for you except, of course, if you still wanted to remain living a lie which some will do.
Most of your relationships from the past will not support your change simply because they are not mentally ready. It does not matter. The world was over long ago! When you go trough the dark you are not a match with the old way of living which means relationships, things and passions are not a match. At least for a while. In my case my old passions did re-surface but since they are more fun based rather than a serious thing, I have been gaining more opportunities in those fields lately.
NOTE: Not all people go trough the dark night. There is no race involved yet it is quite common for people to say that you leap frog in your spiritual evolution when you go trough the dark. I personally feel great. Hah! For those who need a bone, sure, I will admit that challenges still come.
YOU ARE DRAWN TO EAT HEALTHY FOOD.
Sounds retarded, I know, I mean, what does food got to do with experiencing heaven on earth? Well, as you progress in your growth, you will discover that a lot of our foods are processed and the idea behind that is to dull our biological body system and make it less aware of the universe and the fact that we are made of the exact same fabric as the universe: mass of atoms. So when you eat a bunch of killed animals you are digesting your body intelligence with information about death and destruction and you still wonder why people go trough cancer and other dis- eases? Do not get me wrong, you will know when or if you need to eat meat. You will also know when to never eat meat again. It all depends of your intention.
YOU YEARN TO BE IN NATURE.
For many who live in central areas, to them nature has become a little bit alien since they rarely have the time to visit forests or parks. When you start to wake up you will enjoy the intelligence and vibration of nature and will notice how much a simple 30min walk in nature refreshes the body mind. I am not an expert in telling the biological effects of it but the yearning to go to nature and spend more and more time there will be more common. If you go to city central it tends to be due to a calling/ mission not just to "hang out".
YOU ARE LESS AFRAID OF DEATH.
This is a big one. The beginning stages of awakening from the dream of birth and death is really a conscious way of dying. The experience, that tends to be a gradual process to most of us, is like going beyond our childhood. In order to have that experience however, the things that were blocking this awareness you had even during your first  years of childhood must go. When you lose everything and even your old way of thinking while still appearing to be in this world, you my friend, have just died without having to physically die. You have experienced the loss of your old self and you are ready to live a life on earth as a resurrected ascended master or as some like to call Christ. Your mission from here on out is to simply spread your talent or gifts all around the world so that others will also be inspired to wake up and embrace the new earth. They can only experience that when they love themselves the same way we on the journey of ascension started to do once we answered our own call to make a change. A change that ultimately does not happen outside but within. After that, the outside world (effect) changes automatically. When you awaken and integrate your learning, you become very effective in your daily tasks and passions.
Before we can see the new earth, the old must die. – Klem Kaan
PS: I have some cool stuff coming up soon outside of writing articles. You can best get updated on my facebook.