First of all, what I am about to say is not a white, asian or black race thing because from an ignorant point of view I am neither one of these things. Both biologically and mentally. People have not figured out my back ground, and I like it to stay it that way. All that said, here is my thoughts about modern Egyptians, or the so called Afrikans in general.
Dear modern day Egyptians, in fact, almost All ones living in so called Afrika…  You are ruining your life… just like the Rest. Find your Afrikan Totem, fast. Time is ticking… The belief systems you hold coming from Ancient Greeks and Romans are not compatible with your carbon dark native Egyptian Israel Past, unless you find your Afrikan Totem first… And even then, the system is not guaranteed to work at all, because the continent it self can not sustain a Capitalist structure, because the Western world it self also CAN NOT sustain it! This is not a political things. Just facts… Anyway,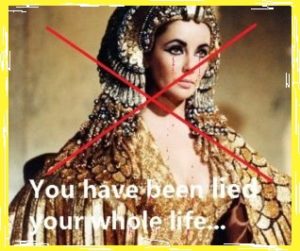 when you find your Totem, you will also have to let go of your Ancestors, the concept of races, Kemet. All cocnepts will eventually have to go after your honeymoon period with your re-discovered and deliberately hidden Totem is over, but before that, there is No need to allow Hollywood and their pathetic Cleopatra, and deliberately distorted Moses movies make you ashamed of your glorious Israel Egyptian heritage before the Greeks and Turkish came, and people started to mingle, and mixed up together, producing mixed children, and using this as a means to infiltrate in the name of brotherhood, eventually hijacking (Israel-Afrika Egypt) origins and using Golum nation/ western propaganda like dump Mika Waltari and Hollywood movies to further distort these origins, and who you really are. All this madness is in order to dumb you down, and make you a mental slave just like the rest of the world are, but who do not even know that they are walking a life of Ancient slavery, and are actually unaware that their schools history, and education  is a distraction, and a sinister propaganda in order for people, from all backgrounds, to not discover that they are slaves, and must learn who they really are in order to get the proper guidance regarding how to escape all this madness.